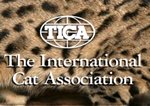 The International Cat Association Breeds
, better known as The International Cat Association is "the world's largest genetic registry of pedigreed cats".
On June 22, 1979, this association was founded by Georgia Morgan, and a handful of cat enthusiasts. Their dream of building the most progressive, flexible and innovative cat registry in the world came true when TICA was formed.
What Makes TICA Different?TICA truly is an international organization. Their organization has members and clubs in Latin America, North America, Asia, Europe and Africa and continues to grow all around the world.This association currently recognizes fifty-five breeds of cats for championship competition - from the regal Siamese, exotic Bengal and exquisite Persian, to newer breeds including the Savannah, Kurilian Bobtail and Thai.
TICA also is the world's largest registry of household pet cats and kittens. Household pet cats and kittens adopted from shelters or rescued off the street, compete for titles and international and regional awards, just like pedigreed cats.
The International Cat Association Cat Breeds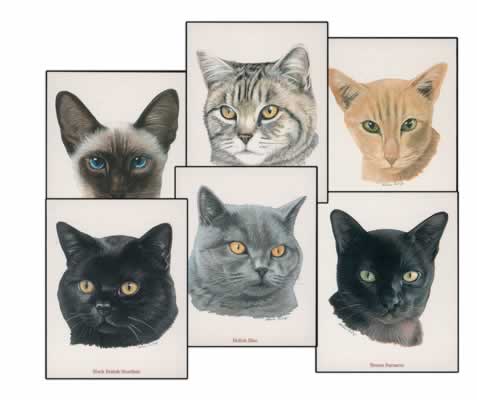 The breeds recognized for show by the TICA differ somewhat from the CFA breeds. All available cat breed profiles can be seen by clicking on the breed name. I have not yet been able to research some of the Breeds recognized by TICA, but they will all have their own pages as soon as possible.
Championship Breeds
-A-
ABYSSINIAN
AMERICAN BOBTAIL
AMERICAN CURL
AMERICAN SHORTHAIR
AMERICAN WIREHAIR
-B-
BALINESE AND JAVANESE
BENGAL
BIRMAN
BOMBAY
BRITISH SHORTHAIR
BRITISH LONGHAIR
BURMESE
-C-
CHARTREAUX
CORNISH REX
CYMRIC
-D-
DEVON REX
-E-
EGYPTIAN MAU
EXOTIC
-H-
HAVANA(HAVANA BROWN)
HIMALAYAN
-J-
JAPANESE BOBTAIL
-K-
KORAT
-L-
LAPERM
-M-
MAINE COON
MANX
MUNCHKIN,(LH AND SH)
-N-
NEBELUNG
NORWEGIAN FOREST CAT
-O-
OCICAT
ORIENTAL
-P-
PERSIAN
Peterbald
PIXIEBOB, PIXIEBOB LONGHAIR
-R-
RAGDOLL
RUSSIAN BLUE
-S-
SCOTTISH FOLD
SELKIRK REX
SIAMESE
SIBERIAN
SINGAPURA
SNOWSHOE
SOMALI
SPHYNX
-T-
TONKINESE
TOYGER
TURKISH ANGORA
TURKISH VAN

Non Championship Breeds
HOUSEHOLD PET
HOUSEHOLD PET KITTEN
Advanced New Breeds
CHAUSIE
SAVANNAH
THAI
Preliminary New Breeds
DONSKOY
HIGHLANDER
HIGHLANDER SHORTHAIR
KURILIAN BOBTAIL
KURILIAN BOBTAIL LONGHAIR
MINSKIN
OJOS AZULES
OJOS AZULES LONGHAIR
SERENGETI
SOKOKE
---
Back from The International Cat Association Breeds to Cat Breeds
---
Check out my CFA breeds page here
---
---