Cat Pictures, Amazing Cat Photos and Stories Including yours!
Cat Pictures are special. It's been said that a cat picture is worth a thousand meows. OK, so it's only been said by me, but its true! These amazing beings grace our lives for what seems like such a short time, it's natural to want to capture their spirit and humor and beauty for eternity.
Now with the age of digital photography it's easier than ever to "freeze frame" some of those wonderful, funny or cute moments in our cat's lives. I've collected quite a few myself, and I will post these here as well, but what I want now is to hear from you. I've gotten so many nice letters from folks that enjoy the site, and have some pretty special cat stories to tell. That's why I am creating this page just for pictures,artwork, stories and poetry all dedicated to cats.
If you would prefer to just sit back and be entertained, after you finish with this page, check out the long awaited Funny Cat Videos page! I've collected some cute and funny videos and put them all conveniently right here on MyCatSite.com!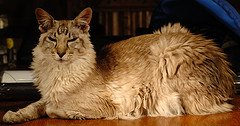 Please send me your stories along with the pictures, because submissions that are approved will be featured as web pages right here on this site! A thousand Meows is great, but I need human words as well, to explain your picture, artwork or poetry! If approved, it's going to be your web page, so have fun!
Explain how you met the cat of your life, or write about what your cat's personality is like. We're all "Cat People" here, and we love to see stories and pictures from other feline fanatics. Pictures of cat artwork are also great. Are you a Cat cartoonist? Write a story to go with your 'toon, we'd love to see it!
LOL Cats are fine, as long as you don't violate anyone's copyrights. If your picture is a memorial of a cat that has passed, please let me know, I am going to have a special Rainbow Bridge section for memorials.
I will post a few to get things started, and will add more as I receive them. Enjoy! ~Raven



---
---
Share YOUR Cat Stories and Pictures!
Do you have A good cat picture and story you'd like To share? Send us a picture and tell us how you and your cat met. Or maybe share a cute or funny story about cats. You may see your submission right here on MyCatSite.com!
What Other MyCatSite Visitors Have Shared!
Click below to see contributions from other visitors to this page...

---
---
---