Cat Toxic Plants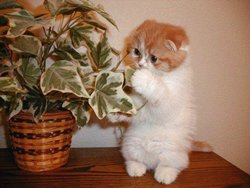 While the title "Cat Toxic Plants" my seem self explanatory, It is important for all of us cat lovers to review this list, because many plants, including those we humans quite commonly use for food are just horrible for our cats!
EASTER LILIES WILL KILL YOUR CAT! THEY ARE POISON TO FELINES!
While I freely admit that I haven't done all the research regarding the cat toxic plants listed here. I have worked hard to compile this list by consulting various experts on the subject including the ASPCA website, local veterinarians, botanical societies and more.
Of course, you can visit these sources, and may well find them useful, but I felt the need to make sure that my readers, you wonderful cat people, would be able to refer to this list of cat toxic plants quickly and easily from my cat site.
Cat Lady Note: While not plants, I must be overcautious and tell you - Never give human medication of any kind to a cat. Many of the medications we use, even aspirin can be poisonous for cats. Please see or at least call a vet if your cat needs medication.
Some Plants Are Cat Safe - Learn Which Ones!


---
---
Spring 2010 Update! - Great news; Lilacs are NOT toxic to cats! Of course, you should not let them chew on them alot since it may irritate their mouth, but due to their bitter taste, that is unlikely to happen. So now that you know you can go ahead and bring some of that gorgeous scent and beautiful color indoors!
And just in time for Mothers day and summer, more good news from the ASPCA; There is currently no data indicating that roses (Rosa spp.) are poisonous to cats or other pets.
Cat Lady note: However, it is important to keep in mind that even plants considered to be non-toxic can produce minor stomach upset if ingested. In addition roses have thorns, which could cause injury to curious noses, mouths and paws. Because of this, it is still a good idea to discourage your cat from nibbling on them.
---
---
I've listed plants known to be poisonous to cats. Please make sure your cat never comes into contact with them. It's important for you to know that any and all Lilies (even though some are not listed as toxic, I say take NO chances) MUST be kept away from cats.
While in some cases, just parts of a plant might be poisonous, on this list I've ruled out the entire plant. If you have any of the plants listed here, keep them away from your cat, or better yet, just get rid of them entirely or put them outside. Better safe than terribly sorry.
If you ever think your cat may have eaten part of a poisonous plant, don't panic, but do rush the cat to your veterinarian as soon as possible. Please don't wait if you are reasonably sure he's ingested some questionable material; time may be of the essence for your kitty's health.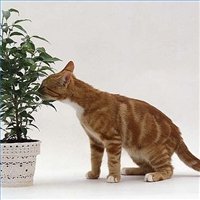 When an incident occurs:
Take just a few seconds to collect any plants or other materials involved. This may be of great benefit to help your vet determine what poison or poisons are involved. Also, use a plastic zip lock baggie to collect anything your cat may have chewed ro thrown up.
If you see your cat eating or chewing on suspected cat toxic plants or any material that you suspect might be poisonous, don't hesitate to seek emergency assistance, even if you don't notice any obvious signs of distress right away. According to the ASPCA, a poisoned animal may seem normal for several hours or even for days after the incident.
Here is an emergency help line that may well save your cat or other pet's) life. Please put this number on your fridge or other place where you can easily access it in the event of emergency.
ASPCA Animal Poison Control Center Hotline
ASPCA Animal Poison Control Center
The telephone number is (888) 426-4435.
There is a $65 consultation fee for this service.
Be ready with the following information:
•The species, breed, age, sex, weight and number of animals involved.

•The animal's symptoms.

•Information regarding the exposure, including the agent (if known), the amount of the agent involved and the time elapsed since the time of exposure.

•Have the product container/packaging available for reference.

While I sincerely hope you never need to use the number above, I just as sincerely hope that you will keep it handy just in case. We cat lovers have a responsibility to look after our feline friends, just as they, in their own way, look after us.
---
---
Plants Toxic to Cats

Almond (pits of)
Aloe Vera
Alocacia
Amaryllis
Apple(seeds)
Apple Leaf Croton
Apricot(pits of)
Arrowgrass
Asparagus Fern
Autumn Crocus
Avocado(fruit and nut)
Azaleas


Baby's Breath
Baneberry
Bayonette
Beargrass
Beech
Belladonna
Bird of Paradise
Bittersweet
Black Eyed Susan
Black Locust
Bleeding Heart
Bloodroot
Bluebonnet
Box
Boxwood
Branching Ivy
Buckeyes
Buddist Pine
Burning Bush
Buttercup


Cactus, Candelabra
Caladium
Calla Lilly
Castor Bean
Ceriman
Charming Deiffenbachia
Cherry(pits, seeds and wilting leaves)
Cherry(most wild varieties)
Cherry, ground
Cherry, Laurel
Chinaberry
Chinese Evergreen
Christmas Rose
Chrysanthemum
Cineria
Clematis
Cordatum
Coriana
Cornflower
Corn Plant
Cornstalk Palnt
Croton
Corydalis
Crocus, Autumn
Crown of Thorns
Cuban Laurel
Cutleaf Philodendron
Cycads
Cyclamen


Daffodil
Daphne
Datura
Deadly Nightshade
Death Camas
Devil's Ivy
Delphinium
Decentrea
Deiffenbachia
Dracaena Palm
Dragon Tree
Dumb Cane


Easter Lilly
Eggplant
Elaine
Elderberry
Elephant Ear
Emerald Feather
English Ivy
Eucalyptus
Euonymus
Evergreen




Ferns
Fiddle-Leaf Fig
Florida Beauty
Flax
Four O'Clock
Foxglove
Fruit Salad Plant


Geranium
German Ivy
Giant Dumb Cane
Glacier Ivy, Golden Chain
Gold Dieffenbachia
Gold Dust Dracaena
Golden Glow
Golden Pothos
Gopher Purge


Hahn's Self Branching Ivy
Heartland Philodendron
Hellebore
Hemlock, Poison
Hemlock, Water
Henbane
Holly
Honeysickle
Horsebeans
Horsebrush
Horse Chestnuts
Hurricane Plant
Hyacynth
Hydrangea


Indian Rubber Plant
Indian Tobacco
Iris
Iris Ivy


Jack in the Pulpit
Janet Craig Dracaena
Japanese Show Lilly
Java Beans
Jessamine
Jerusalem Cherry
Jimson Weed
Jonquil
Jungle Trumpets


Kalanchahoe


Lacy Tree Philodendron
Lantana
Larkspur
Laurel
Lilly
Lilly, Spider
Lilly of the Valley
Locoweed
Lupine


Madagascar Dragon Tree
Marble Queen
Marigold
Marijuana
Mescal Bean
Mexican Breadfruit
Miniature Croton
Mistletoe
Mock Orange
Monkshood
Moonseed
Morning Glory
Mother-in-Laws Tongue
Mountain Laurel
Mushrooms


Narcissus
Needlepoint Ivy
Nephytis
Nightshade


Oleander
Onion
Oriental Lilly


Peace Lilly
Peach(pits and wilting leaves)
Pencil Cactus
Peony
periwinkle
Philodendron
Pimpernel
Plumosa Fern
Poinciana
Poinsettia
Poison Hemlock
Poison Ivy
Poison Oak
Pokeweed
Polk Weed
Poppy
Potato
Pothos
Precatory Bean
Primrose
Privet, Common


Red Emerald
Red Princess
Red-margined Dracaena
Rhododendron
Rhubarb
Ribbon Planr
Rosemary Pea
Rubber Plant


Saggle Leaf Philodendron
Sago Palm
Satin Pothos
Schefflera
Scotch Broom
Silver Pothos
Skunk Cabbage
Snowdrops
Snow-on-the-Mountain
Spotted Dumb Cane
Staggerweed
Star of Bethlehem
String of Pearls
Striped Dracaena
Sweetheart Ivy
Sweetpea
Swiss Cheese Plant


Tansey Mustard
Taro Vine
Tiger Lilly
Tobacco
Tomato Plant(green fruit, stem and leaves)
Tree Philodendron
Tropic Snow Dieffenbachia
Tulip
Tung Tree


Virginia Creeper


Yews -
e.g. Japanese Yew
English Yew
Western Yew
American Yew

---
---
Please note that while all the information on my page and this list is as accurate as I can provide, I cannot legally make any claims or warrantees as to the completeness or accuracy of the information. When in doubt, especially with regard to cat toxic plants, always consult with your veterinarian.


---
Back from Cat Toxic Plants to Cat Health

Back from Cat Toxic Plants to Home Page

Quick Jump to Cat Safe Plants Page
---
---